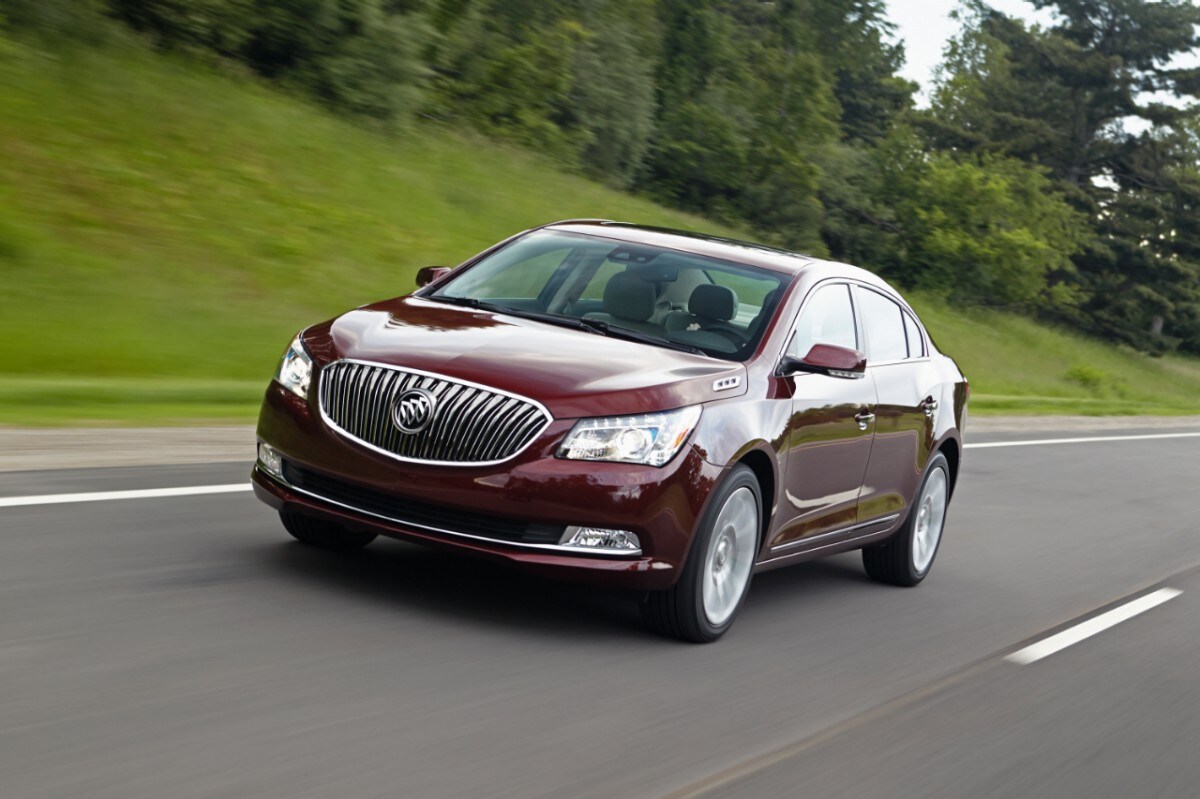 The
2014 Buick LaCrosse
, now available at
Gary LangBuick
, is an evolution of the landmark luxury sedan that established the brand's modern sedan lineup with design leadership and technological innovation.
The full-size LaCrosse offers McHenry-area drivers new interior and exterior design cues, advanced safety technologies and enhanced in-vehicle connectivity. New front and rear styling, featuring signature wing-shape LED daytime running lamps and LED wraparound tail lamps, complements its sculpted exterior design. The interior is more contemporary, with new seats, enhanced materials, redesigned central instrument panel and console - and an all-new, available Ultra Luxury Interior Package. The cabin also incorporates Buick's next-generation IntelliLink infotainment system, with intuitive controls and natural voice recognition.
What's New
New radar- and camera-based safety features help surround the new LaCrosse with protection. They include Side Blind Zone Alert, Lane Change Alert, Lane Departure Warning, Forward Collision Alert, Rear Cross Traffic Alert and Automatic Collision Preparation. GM's patented Safety Alert Seat works with these features, providing seat vibration pulses indicating the direction of a potential crash threat.
Adaptive Cruise Control is also offered. It senses traffic in front of the LaCrosse to adjust vehicle speed, including stopping the vehicle in heavy traffic and accelerating again.
A More Expressive Exterior Design
The LaCrosse's new appearance is instantly recognizable by McHenry-area drivers as a modern Buick and the LED lighting elements enhance its technologically advanced presence. The headlamp housings, for example, have a more angular appearance and LED signature accents that echo a familial appearance introduced on the 2013 Enclave crossover. They've also been positioned slightly outboard to reinforce the car's presence.
The new Bi-Xenon headlamps incorporate new technology with enhanced brilliance that improves visibility for McHenry-area drivers, is energy-efficient and environmentally friendly (mercury-free). Articulating Headlamps are paired with these HID lamps, turning them with the direction of the front wheels to enhance visibility around corners.
At the rear, a full-width chrome accent reinforces the car's stance, while fully enclosed exhaust outlets (3.6L models) are framed with a chrome finish within a new rear fascia. It's a more integrated appearance designed to show Buick's attention to detail. An integrated rear spoiler is incorporated in the trailing edge of the deck lid to help improve aerodynamic performance and new LED taillamps - in all-new, wraparound housings - provide a safety benefit by illuminating more quickly than conventional bulbs when the brakes are applied.
In the front and rear, LaCrosse's new LED lamps continue the wing-shaped signature appearance that distinguishes Buicks day and night.
New Interior Environment
While the LaCrosse's new interior brings McHenry and Crystal Lake-area drivers more amenities and enhanced personal technology with next-generation IntelliLink, it does so with greater simplicity. The new center stack radio controls, for example, have only seven buttons vs. the previous 17. The large, eight-inch color touch screen is designed to be easier to operate with intuitive controls and smartphone-influenced swipe recognition for easier navigation. Dual-zone climate controls also feature capacitive-touch operation and are framed in chrome.
The rear-seat headrests fold down to enhance rearward visibility, while the new four-way adjustable front headrests are designed to provide a greater range of comfort, particularly for McHenry County's taller drivers.
Four interior color/trim combinations are available for 2014:
Light Neutral seating/Cocoa accents, offered with cloth or Soleil Keisel leather seats and Kyoto Maple wood-style décor
Ebony, offered with cloth or Soleil Keisel leather seats and Cellini Wood decor
Choccachino seating/Cocoa accents, with Soleil Keisel leather seats with contrast stitching and Phantasm Wood-style decor
"The sleek and modern exterior, along with the warm color combinations, premium interior materials and advanced technology in the 2014 LaCrosse provide McHenry-area's most discerning drivers the luxury vehicle they are seeking," said Dixie Gilmore of Gary Lang Auto Group.
Ultra Luxury Interior Package
Sangria seating color and Ebony accents, with semi-aniline leather seats and trim, along with Shadow Tamo Ash wood decor, represents LaCrosse's new Ultra Luxury Interior Package.
The new Ultra Luxury Interior Package features premium semi-aniline leather that McHenry-area drivers will love. It covers the seats, console armrest and door armrests and is complemented by synthetic suede on the headliner and door pillars. The Sangria contrast color with the Ultra Luxury interior is exclusive to LaCrosse.
Technology
Today, Buick's IntelliLink system can do far more than place a call, and QuietTuning technologies like those in the LaCrosse luxury sedan make using voice controls easier for owners regardless of marital or relationship status.
QuietTuning is Buick's comprehensive engineering process to reduce, block and absorb interior noise. For LaCrosse, that means features like laminated window glass, triple door seals and liquid applied sound deadening. These features provide McHenry and Crystal Lake-area customers with a quiet, luxurious ride.
The system's ability to hear a command relies on SNR, or signal-to-noise ratio. If noise is extremely low like it is in the LaCrosse, the user's voice, or signal, can be lower. In other words, a LaCrosse driver can easily speak to the IntelliLink system at a normal, conversational volume.
Buick's IntelliLink voice commands were developed to be simple, intuitive and designed around the controls drivers need most.
"With IntelliLink - standard on every 2013 Buick - drivers can use voice commands to control navigation and audio functions with the push of a button while keeping eyes on the road." said Dixie Gilmore of Gary Lang Auto Group. "With a smartphone paired, IntelliLink's voice commands can even tune to a Pandora internet radio station or 'like' a song."
How does it work? Using a microphone in the cabin's headliner, the system uses a speech engine to match spoken words to known voice commands. When the engine finds a match, that command is executed.
"Buick also designed the system with speaker adaptation, which means the engine is trained for different accents or dialects," said Dixie Gilmore. "It can begin to predict speech patterns based on those models. Your LaCrosse remembers your speech patterns even after the car is turned off and on, but it can also identify another user and predict his or her patterns as well."
Safety
Every
2014 LaCrosse
will be offered to McHenry-area drivers with a suite of available active safety systems that watch the front, side and rear of the vehicle to help prevent crashes. Buick will be the only brand in the industry to offer Forward Collision Alert, Lane Departure Warning, Rear Cross Traffic Alert, Side Blind Zone Warning, and a Rear Vision Camera on every vehicle.
Forward Collision Alert and Lane Departure Warning are a pair of technologies that use a single forward-looking camera to read traffic and lane markers on the road ahead. Visual warnings and audible tones alert the driver to unsignalled lane changes or a slowed vehicle.
Rear Cross Traffic Alert and Side Blind Zone Warning use radar to watch spots the driver may not see - and provide visible and audible warnings to help prevent collisions. When the vehicle is in reverse and the Rear Vision Camera is active, Rear Cross Traffic Alert will flash a red icon and directional arrow if another vehicle is approaching from either side, which is especially useful backing out of a tight driveway or parking space in a busy lot.
Side Blind Zone Alert detects other vehicles in a LaCrosse's blind spot and alerts the driver with a yellow icon on the glass of either side view mirror. If a turn signal is engaged while a vehicle is detected in the next lane, the icon flashes to discourage merging.

Power
LaCrosse with eAssist uses a lithium-ion battery system and electric motor-generator to enable regenerative braking capability. Instead of providing all-electric propulsion, the system provides power assistance to the internal combustion engine.
"The 2014 Buick LaCrosse not only offers an efficient and refined driving experience, but the included eAssist system allows the engine to shut down fuel delivery in certain deceleration situations, or at a stop, saving additional fuel," said Dixie Gilmore of Gary Lang Auto Group.
New 17-, 18-, 19- and 20-inch tires, along with revisions to some chassis and suspension elements, contribute to stronger handling across the model range, while new wheel designs - including LaCrosse's first 20-inch wheel - match driving experience with style. LaCrosse is also available to McHenry County drivers with an advanced Haldex all-wheel-drive system with electronic limited slip differential (eLSD) that automatically decides how to distribute torque based on vehicle speed, throttle position and individual wheel slip. It also contributes to a refined driving experience, with minimal torque transferred to the rear wheels when all-wheel-drive traction isn't required, for a quieter, smoother ride.
Available on 3.6L front-wheel-drive models with 19- or 20-inch wheels is real-time damping and Sport Mode Selectivity, which uses four electronically controlled dampers to constantly "read" the road and make adjustments within milliseconds. It also features Buick's HiPer Strut front suspension, which enhances ride and handling for to McHenry and Crystal Lake-area drivers by reducing torque steer, delivering more linear and communicative steering through improved camber control and delivering improved impact isolation on bumps and rough surfaces.
Electric power steering is standard on models with the 2.4L engine, as well as 3.6L-equipped front-drive models. This technology helps save fuel by drawing energy only when the wheels are turned. It also contributes to the LaCrosse's driving experience with variable assistance at different vehicle speeds.
Globally, LaCrosse sales have exceeded 500,000 since its 2009 introduction and U.S. sales topped 57,000 in 2012, making it more popular than many other full-size luxury sedans, including Lexus ES, Acura TL and Lincoln MKS.
Gary Lang Buick of McHenry now has the
2014 Buick LaCrosse available in stock
and ready for you to take it home. Contact a Buick Sales Specialist for more information or to schedule a test drive. Gary Lang Auto Group has been serving McHenry County for over 30 years.